SoF1 Full Skincolor Mod - By
CheaterSkeeter
- What is it?
The SoF1 Full Skincolor Mod allows you to:
-Set the color / transparency for head/body/weapon/armour.
-Reduce the volume of sounds such as explosions and gunfire to make footsteps/jumping easier to hear. (default sounds, so remove any existing sound mods you have, or set to 0dB so no sounds are in the pak)
-A pak file containing the Full Skincolor Mod is made at the end.
-How?
- Copy and pasting image files
- Reduce .wav file volume
- Nothing that a human can't do with GIMP + Audacity
- GUI?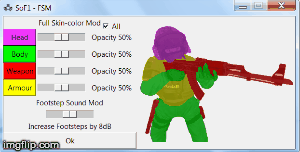 -The colors are wrong
If you set 100% opacity, make sure you set skin textures to high:
Can i use it with WINE in linux?
Yes
Is Skinpack 2015 supported?
No, but if its requested, sure
Credits:
-Graham - packing data files into the exe, and helping me create 'MakePAK'
Download
Exe.zip
(You probably want this one)
http://cheaterskeeter.megalag.org/skingui/full_skincolor_mod.exe.zip
7zip.exe
(self extracting exe)
http://cheaterskeeter.megalag.org/skingui/Full-Skincolor-Mod.7z.exe
Source
[python setup.py py2exe]
http://cheaterskeeter.megalag.org/skingui/full_skincolor_mod.source.zip
Virus scans
https://www.virustotal.com/en/file/e73a711fb8b154b0447583652874ac839daa4dffe3feee9ce6e619df2c19b96e/analysis/1459469587/
https://www.virustotal.com/en/file/91a09f54e99eb738716b29b3d8beecfdeccced146eee4df84c97194271ff45ec/analysis/1459469187/
(2/56 false positive for 7zip exe)
https://www.virustotal.com/en/file/ec769205436ad7ec7f0a9419be99f5209c7d0857bc6fc0f1b45e71fe4c223b35/analysis/1459469259/